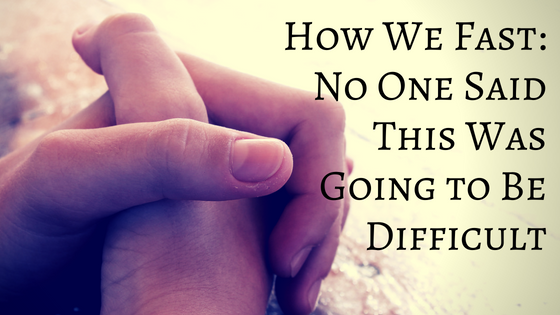 What We Eat While Fasting
While Acts and other books in scriptures clearly show the apostles fasting after Christ's Ascension, we believe there is useful detail supplementing scripture as to the manner in which the apostles were led to fast – specifically they fasted on bread and water twice per week. (Done generally on Wednesdays and Fridays unless a celebration occurs on those days in which you can choose two different days that week) When fasting 1st century Christians would eat as much bread and drink as much water as they desired but limited their intake to those two items. Many say to us: "That is too easy - It must be cheating!" We concur - It is shockingly easy to fast with good bread and water. Moreover many include olive oil or butter or honey with their bread while fasting. How can this bring about such good? Perhaps the tagline around rebuilding our nation and church and protecting our families and endeavors through fasting should be:
Fasting … No one said this was going to be difficult
We have come to understand that the Lord doesn't want us curled up in a fetal ball, unable to function when we fast due to headaches, etc. If that were the case, then Christians with obligations to support families, etc. could not fast regularly. Instead of setting the fasting bar so high as modern theologians may suggest is necessary, we see from the precedent of early believers that The Lord sets the fasting bar much lower for us to get over in order to achieve victory. The sacrifice clearly is around food, but He shows that He wants us to just make this little sacrifice for Him, to do it regularly and to do it joyfully.
Daniel 10:3 shows that Daniel ate staples to sustain himself during his fast as well, specifying that he avoided finer, more enjoyable foods but clearly not specifying he abstained from eating:

"I ate no choice food; no meat or wine touched my lips; and I used no lotions at all until the three weeks were over."

The outcome of his Daniel's fast showed that The Lord clearly approved Daniel's more modest sacrifice given Heaven's response.

In terms of frequency, the Didache, a first century manuscript written by believers clearly shows that Christians fasted twice weekly, on Wednesdays and Fridays.

Further in Medjugorje, Heaven suggested bread and water is indeed the "best fast", bridging the gap of sacrifice and sustenance.
While the modern world is widely opposed to "carbs" know that 100% whole grain bread is rich in protein and vitamins and as detailed on our Health Benefits of Fasting page, is even credited by research institutions such as the Oakland Children's Hospital as the missing puzzle piece among many Americans to achieve greater health.


The best summary of how to simply approach fasting we have heard:
Janice Connell, serial author and a public speaker around whom dramatic conversions have flowed, summed up how she approaches fasting with the Lord when she begins her fast day:
"Lord, I love chocolate...

But I love you more than chocolate, so I gladly make this small sacrifice and fast on bread and water today out of love for you and for your kingdom.

Thank you for all you do for us Lord."
Doesn't that say it all? Let that be our demeanor when coming before The Lord on fast days. Surely that simple approach brings the Lord great joy.

In place of chocolate feel free to add "cheese steaks", or for those not from Philadelphia, "omelets", "fresh salads" or whatever your favorite foods may be.

The inisght that the best fast is on bread and water along with the reminder that Christians are obligated to fast on Wednesdays and Fridays was given on July 21,1982 in Medjugorje before virtually any pastor alive today was preaching weekly fasting. Here is the quote that ignited fasting by thousands on every continent of the world over 35 years ago giving us granularity into fasting that had been lost over the centuries:


"The best fast is on bread and water. Through fasting and prayer, one can stop wars, one can suspend the laws of nature. Charity cannot replace fasting. Those who are not able to fast can sometime replace it with prayer, charity, and a Confession; but everyone, except the sick, must fast."